East African Pilau Rice – Quick , Easy Flavored packed vegan rice – with tons of spices Great for meat lovers too!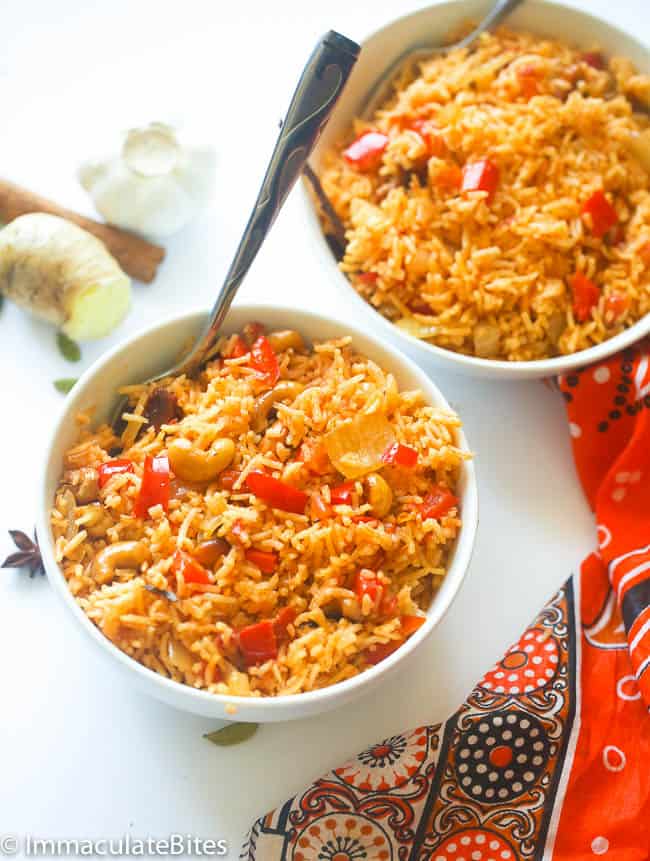 This pilau right here dates back to Indian origin; probably an import that has been adapted for East African kitchens.
Pilau Rice is an intensely flavored rice, somewhat of a celebratory dish, that is cooked throughout East African Countries or Countries situated along the Swahili region in Africa.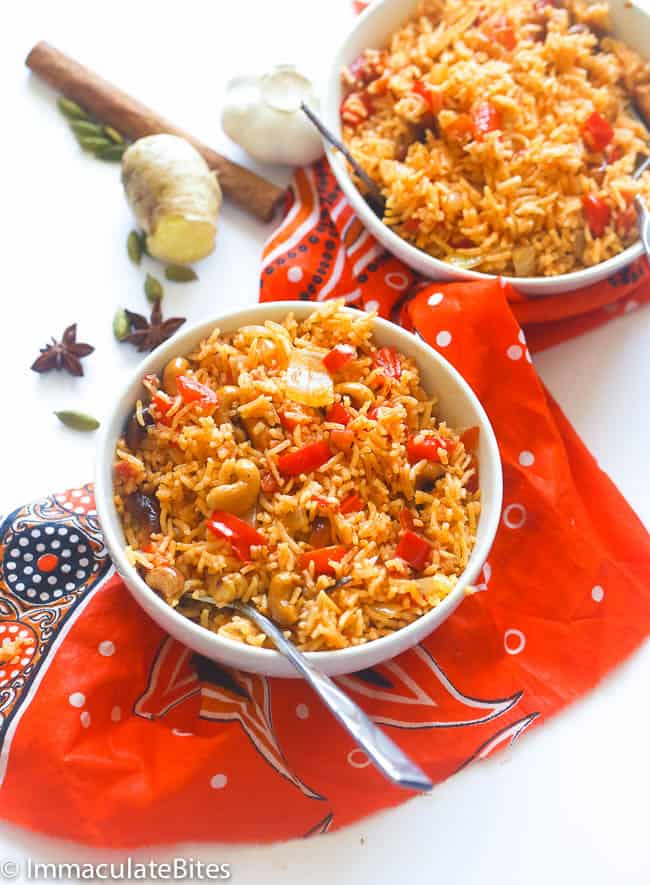 It varies in preparation, but it is Super Spicy! Not Spicy Hot! But a spice haven- loaded with cinnamon, cumin, star anise, bay leaf, curry powder, cardamom, black pepper, garlic, ginger, onions, bell pepper, Jalapenos pepper and pepper flakes. AND to make it even more flavorful, it is cooked with coconut milk. Seriously not kidding when I said it is intensely flavorful.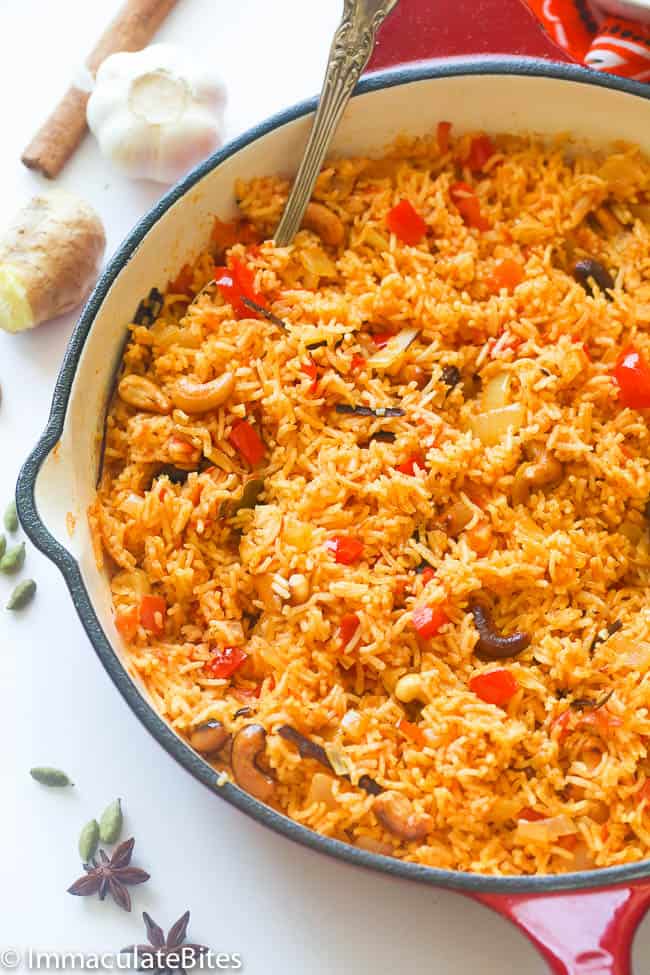 Fear Not! The list of ingredients might seem long but the preparation is easy breezy. The first thing to do is sauté the spices for the ingredients to bloom, then proceed with the rest of the ingredients. Cooking time is no more than 25 minutes.
The term "Pilaf" often refers to the technique of cooking rice using seasoned broth. A technique that originated from the Middle East and quickly gained popularity in the neighboring countries. And has spread it's wings throughout the world. Most Notably in India, Caribbean's and right here, in the U.S.A.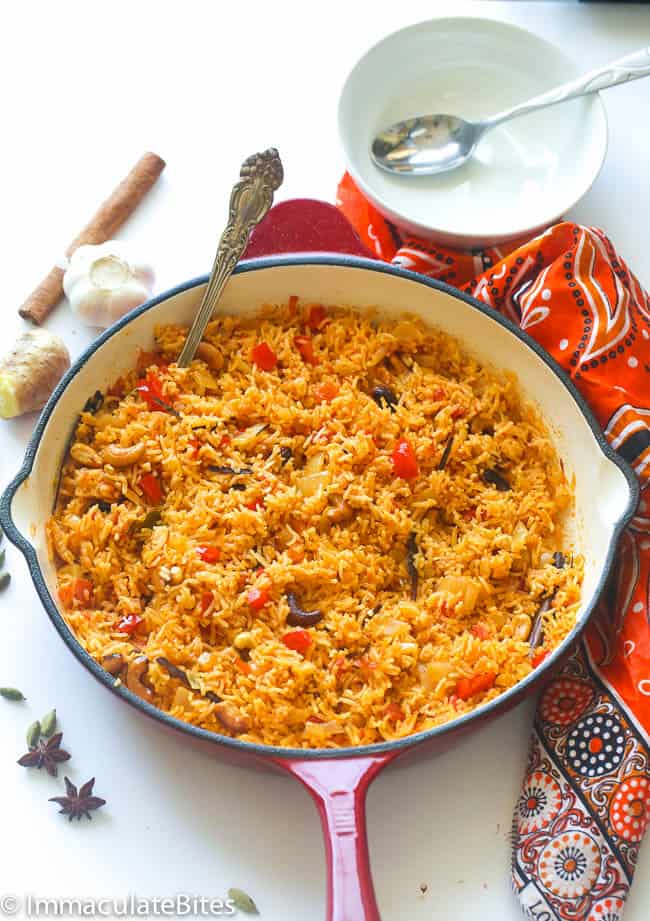 Yes, the African slaves transported it here. It is commonly known here as rice pilaf also known as pilav pilau or pilaw in other parts of the world. Just some background info. I think you should know.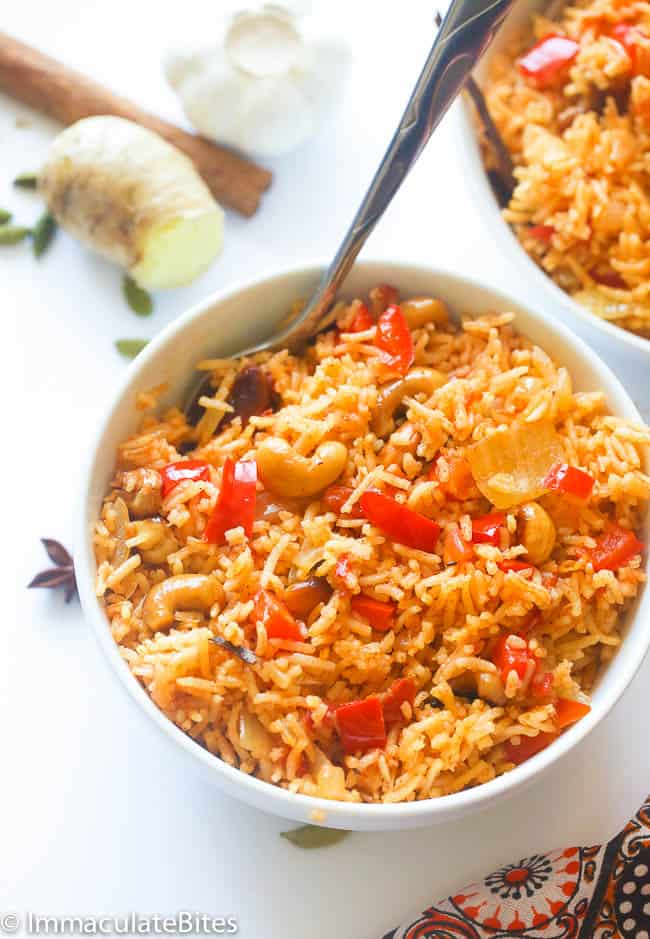 For the liquid, you may switch it up with any broth. I used 1-cup coconut milk and replace the other 3 cups with broth. I had some shrimp so topped the rice with it . This rice pairs perfectly with this coconut shrimp
here
or to make it completely vegan with this Kachumbari
here.
Enjoy!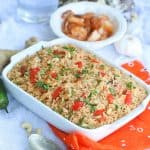 East African Pelau
East African Pilau Rice – Quick , Easy Flavored packed vegan rice – with tons of spices Great for meat lovers too!
Course: Sides
Cuisine: African
Servings:
Calories: 330 kcal
Ingredients
2-3 tablespoons cooking oil/butter/Ghee
1 teaspoons cumin spice
½ teaspoon cardamom spice
¼ teaspoon curry spice
½ teaspoon star anise
1 cinnamon stick
1 bay leaf
1 teaspoon pepper flake optional
1 medium onion chopped
1/2 teaspoon smoked paprika
2 teaspoon minced garlic
1 teaspoon minced ginger
½ teaspoon white/black pepper
1 small jalapenos pepper deseeded and chopped
1/3 -1/2 cup cashew optional
2 cups Basmati rice
1-2 tomatoes chopped
1 small red bell pepper chopped
4 cups Liquid Broth or water, and or coconut milk
1½ teaspoon salt or more adjust to taste
Instructions
Heat a saucepan with oil/ butter. Sauté the cashews for about 2 -3 minutes.

Then add all the spices – cumin, cinnamon stick, bay leaf, curry, cardamom and paprika, stir for about 1 minute. Throw in the garlic, ginger, jalapeños pepper and onions. Continue cooking for another minute. Add tomatoes, bell pepper and continue cooking for about 2-3 minutes

Stir in rice , cook for about 2 minutes, then add 4 cups of broth /coconut milk, salt and bring to a boil.

Reduce heat, and simmer until rice is completely cooked- about 18- 20 minutes. As the rice cooks you may add more stock if needed. Fluffy, remove cinnamon stick, bay leaf and serve
Nutrition Facts
East African Pelau
Amount Per Serving
Calories 330Calories from Fat 45
% Daily Value*
Total Fat 5g8%
Saturated Fat 3g15%
Cholesterol 15mg5%
Sodium 722mg30%
Potassium 247mg7%
Total Carbohydrates 64g21%
Dietary Fiber 2g8%
Sugars 2g
Protein 5g10%
Vitamin A23.9%
Vitamin C47.4%
Calcium5%
Iron7.9%
* Percent Daily Values are based on a 2000 calorie diet.