Chai Tea Latte – super easy guilt-free homemade Chai Latte that is rich, creamy, spicy and sweet. A perfect warm blend to lighten you up especially on these cool days.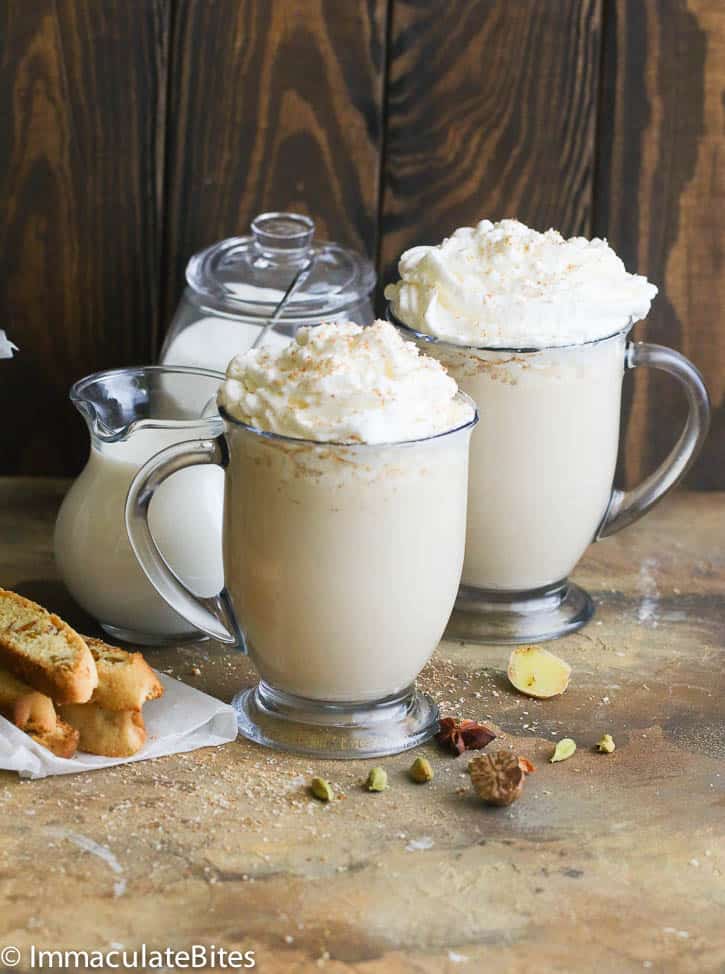 Check this out and see what an early Christmas present feels like in October. If you like fresh, spicy, sweet and milky tea then you're in luck. Your tastes buds are going to linger over the Chai Latte blend guaranteed to give you a sensational buzz… oh did I mention it is almost guilt free.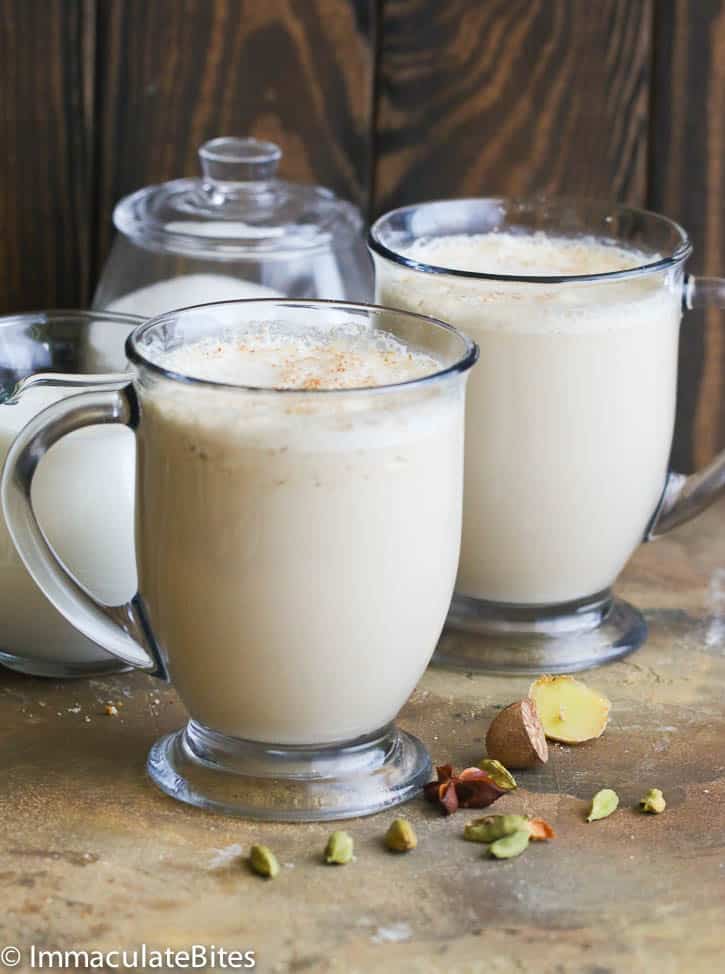 It is a combination of black tea, milk and a heightened mélange of spices that include cinnamon, anise, clove, cardamom and ginger. Finally it is sweetened with a touch of sugar or honey. (Yes you could leave that part out if you wish).
I am a huge Chai fan; I love it served hot or cold, consumed in the former part of the day because of the possible calorie content. See I am one of those people that always has buyer's remorse or may should I say 'Drinker's' remorse. I can easily gulp a big cup of latte which would sit comfortably in my tummy for a long time using up most my precious calories for the day, geez.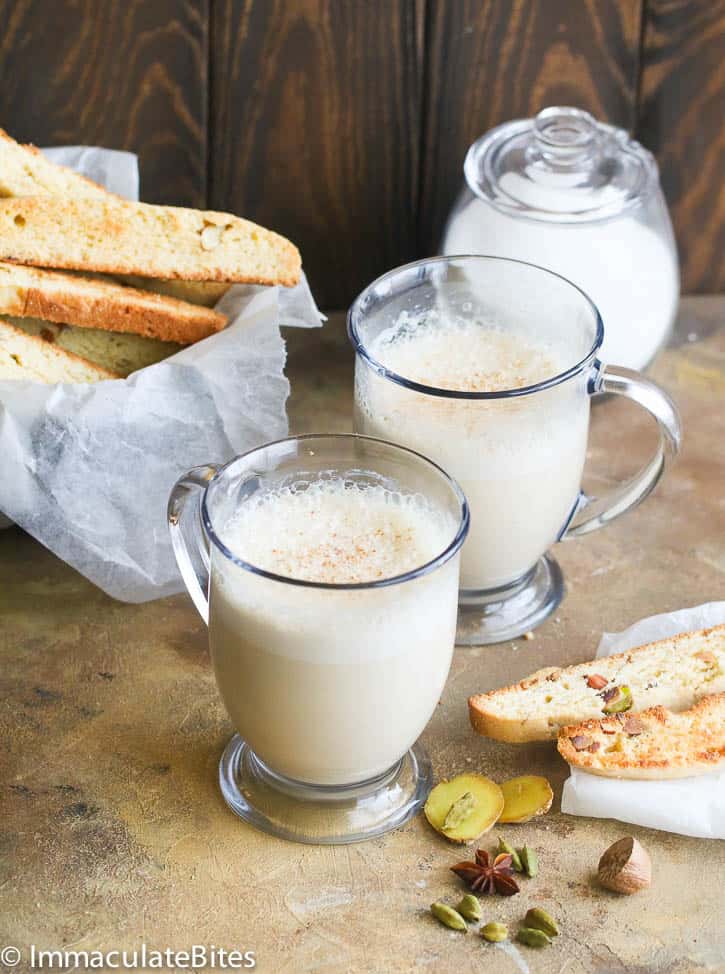 This chai tea though is different – lightened up with lesser calories per serving but still maintaining its rich, creamy and spicy taste. The key ingredient?, I use coconut milk which is rich in flavor, creamy and is 60 calories per cup ,sweetened with Splenda, then topped with fat-free whipped cream which is 5 teaspoons per serving. You may use honey if you wish.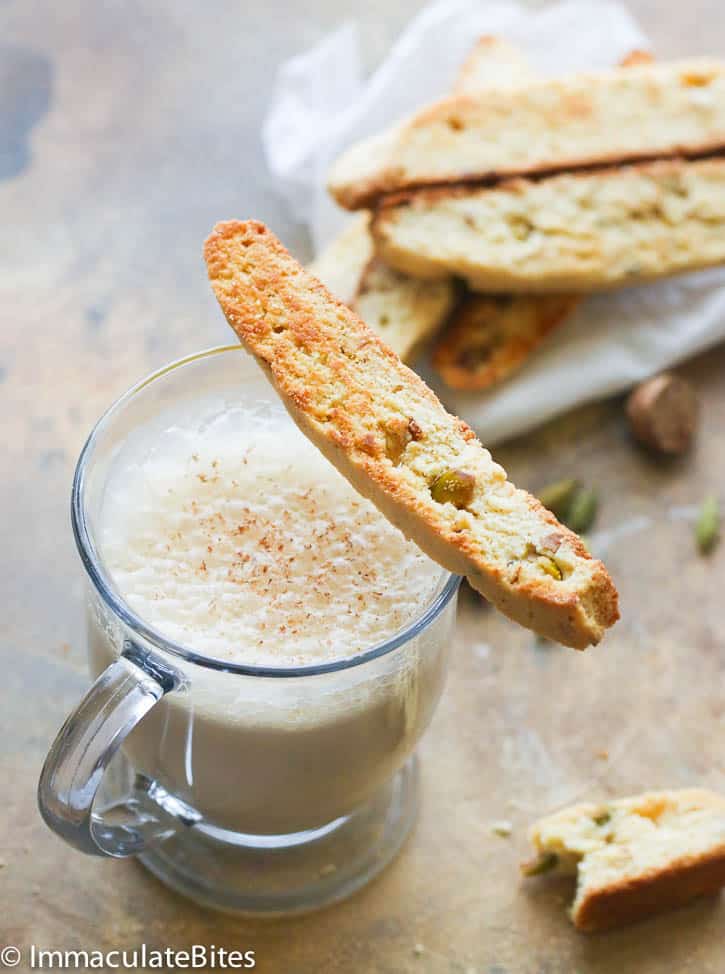 The ratio here is 1 cup of water to 2 cups of drinkable coconut milk (the ones sold in the carton at the local supermarket) not the canned coconut milk cream. For best results, you can make your own coconut milk featured
here
. It is 10x tastier than any store-bought milk especially with this tea. Serve it with this
East African Doughnu
t
Notes
Use regular milk , and adjust the spices, sugar with more or less to suit tastebuds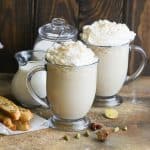 Chai Tea Latte
Chai Tea Latte – super easy guilt-free homemade Chai Latte that is rich, creamy, spicy and sweet. A perfect warm blend to lighten you up especially on cooler days.
Course: Drinks
Cuisine: African
Servings: glasses
Calories: 60 kcal
Ingredients
2 cups (473 ml) of coconut milk
1 cup (175ml) of water
2 star anise
2 teaspoons of grated or finely chopped ginger
2 short crumble cinnamon sticks
7 cardamon pods heavily crushed
2 bags of black tea I used earl grey
3 sweetener packet sweetener splenda ,stevia
6 tablespoons of fat free whipped cream optional
1 whole nutmeg for topping optional
Instructions
Crush star anise, cinnamon sticks, cardamom pods and chop ginger( for an intense ginger flavor you can mince the ginger , depending on your preference)

In a medium saucepan, add 2 cups of water together with the crushed spices (cinnamon, cardamom, ginger and star anise)

Bring the water to a boil, then let the spices simmer for 5-8 minutes.

Turn off the heat and then add tea bags and let it simmer for 2-3 minutes.

When the tea has reached it's desired strength add coconut milk. Bring to a boil and turn off heat.

Serve warm with grated nutmeg and whipped cream or let it cool and pour over ice.
Nutrition Facts
Chai Tea Latte
Amount Per Serving
Calories 60Calories from Fat 189
% Daily Value*
Total Fat 21g32%
Saturated Fat 17g85%
Cholesterol 41mg14%
Sodium 142mg6%
Potassium 52mg1%
Total Carbohydrates 12g4%
Dietary Fiber 2g8%
Sugars 3g
Protein 1g2%
Vitamin A8.7%
Vitamin C1.2%
Calcium6.7%
Iron6.1%
* Percent Daily Values are based on a 2000 calorie diet.