UK may consider electric vehicle subsidy to increase cycling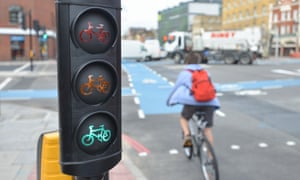 The UK government could potentially consider providing subsidies for electric bicycles and electric cars as part of a concerted policy effort to get more people cycling, the roads minister, Jesse Norman, has said.
With the UK facing health crises from pollution and inactive living, other plans could include using electric cargo bikes to deliver packages from internet retailers rather than vans, Norman told the Guardian.
Saying his ambition was to "make the transition to a world where a 12-year-old can cycle safely", Norman said he could not promise extra funding for cycle routes, but said central government could start pushing councils to take more action.
These are increasingly popular with novice or older cyclists or those facing a hilly or lengthy commute, but can often cost £1,500 or more.
Norman said an e-bike subsidy could happen: "We've done some work on that already, and I haven't looked at the outcomes yet, and they might not be ready yet. There's a case in principle."
He said there was "tremendous opportunity" for more packages to be delivered by electric-assist cargo bikes: "If you think about what in terms of local deliveries, a lot of these Amazon deliveries are lighter things – you don't need a Transit van to be doing that.
"I think e-bikes and ebikes-plus are a really interesting potential way of handling that last mile or two of deliveries."
After the trial Norman said he would examine a possible new offence of causing death by dangerous cycling, and announced the review of cycle safety. He also wrote a letter to cycling organisations warning them riders should abide by the Highway Code.
Norman said critics had "missed a wider point" that the safety review would also cover the danger posed to cyclists by drivers, including those "using cars in ways that are intentional and punitive".
Asked if he had experienced dangerous driving while cycling, he replied: "I bike every day, so absolutely."
On possible laws for helmets and high-visibility clothing, Norman said the review would "ask very general questions and if the feedback is that we should consider that stuff, then we'll look at it".
He added: "Obviously there will be some people who feel very strongly that there should be hi-vis, and there will be plenty of people who think very strongly the other way. It'll be the same with helmets. The literature on risk is quite a well developed one, I don't need to tell you."
About 1-2% of trips in the UK are made by bike, considerably fewer than in many other other European countries.
He raised the idea of a more proactive approach from Westminster over cycling, saying he was "not ruling out" the idea of ministers pushing local councils to do better on the issue, or mandating national standards for bike lanes.
With the advent of driverless vehicles and other moves away from traditional cars, governments needed to think about how road transport was being transformed, Norman said, saying cycling would be key to this.
He said: "It's not just, if I may say so, the actions of a government which is supportive of cycling, it's also the actions of a government that understands that the whole nature of the way in which we use the roads, and the way we think about cities, is going to change dramatically over the next decade or two, and possibly earlier. We need to be fully abreast of that."