Chicken Shrimp & Sausage Gumbo
Chicken Shrimp & Sausage Gumbo — a rich, flavorful gumbo with authentic flavors; loaded with chicken, sausage, shrimp and crab legs. Simply Delicious.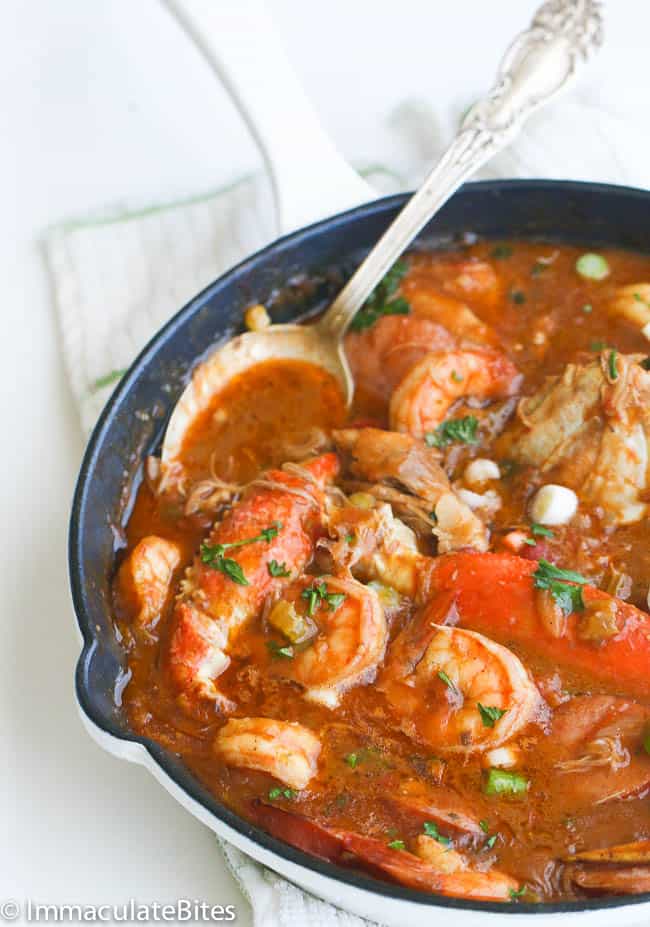 I Heart Gumbo! It just blends right in with my African Cuisine – spicy, substantial, well-seasoned and full of amazing ingredients. I have got to say the combination is right on point. Now how could anyone not want to make this ?
Don't let the ingredients list scare you. Making gumbo is simple and straight food and is no more complicated than making stew. After you get past the stirring (making the roux) everything else is a breeze. This gumbo is loaded with hearty pieces of chicken thighs, smoked sausage, crab legs and shrimp. The key to a great gumbo is the roux.
A "roux" is basically equal parts of oil and flour, stirred together to eliminate the floury taste. With gumbo, the stirring is prolonged to achieve a chocolate color to intensify the flavor the stew.
When making the roux, try not to walk away or else it might burn. In the beginning, it will look like frosting but after about approximately 22-25 minutes of constant stirring the mixture will become a little more like gravy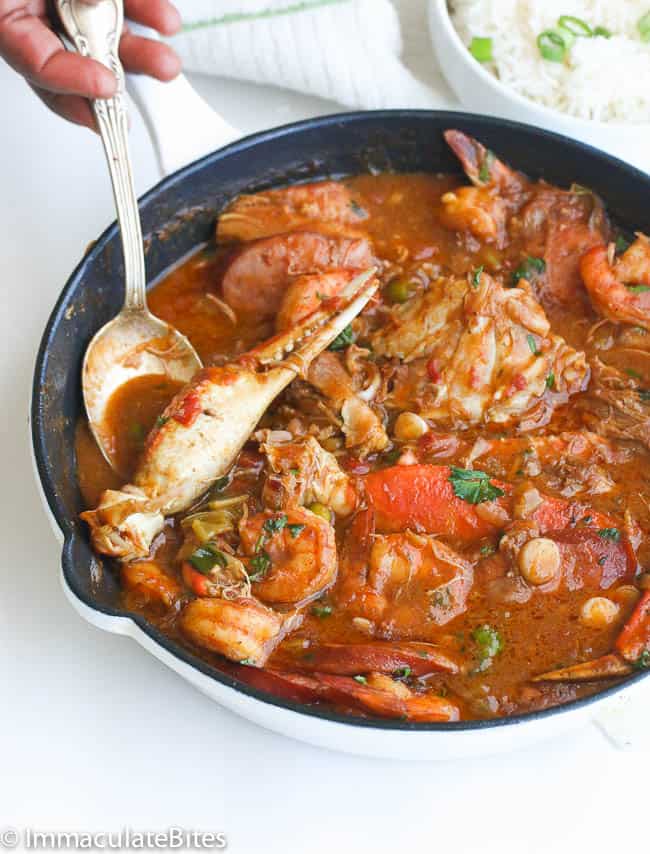 Most recipes call for okra (a thickener), I intentionally omitted it and replaced it with
gumbo file
(powdered leaves of the sassafras tree) This serves both as a thickener and adds a distinct flavor to the dish. Gumbo is most often paired with it's time honored maid – rice. So have some white rice to go with this, along with bread (my preference) If you want to include okra in your gumbo then give this
other gumbo
a try .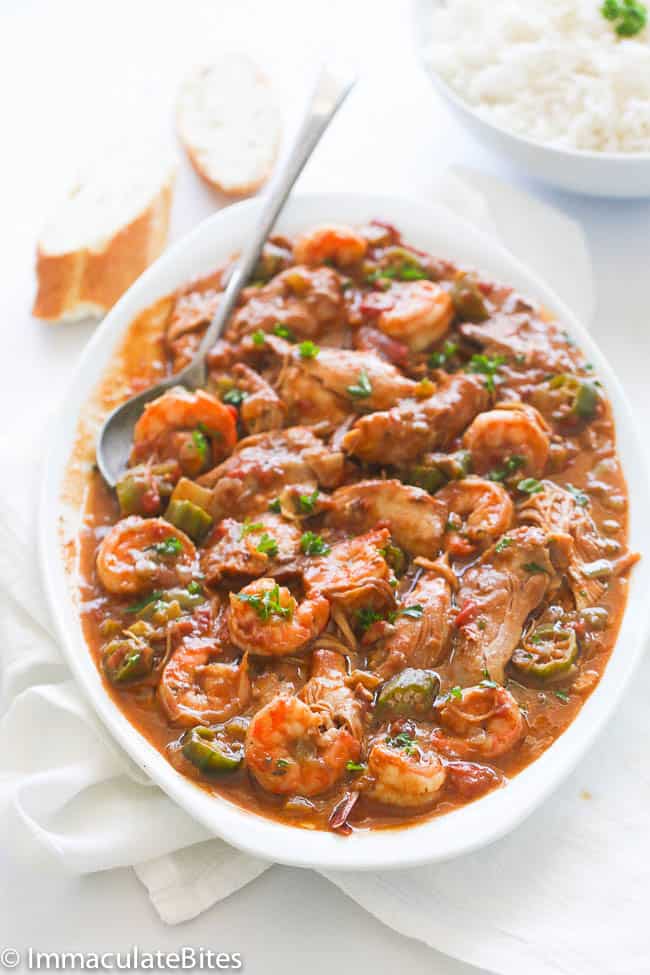 For a cooking breeze, have this
Creole Seasoning
ready in your pantry. This creole seasoning add depth and richness to this gumbo dish. It's quick to put together and can be easily customized to your personal preference.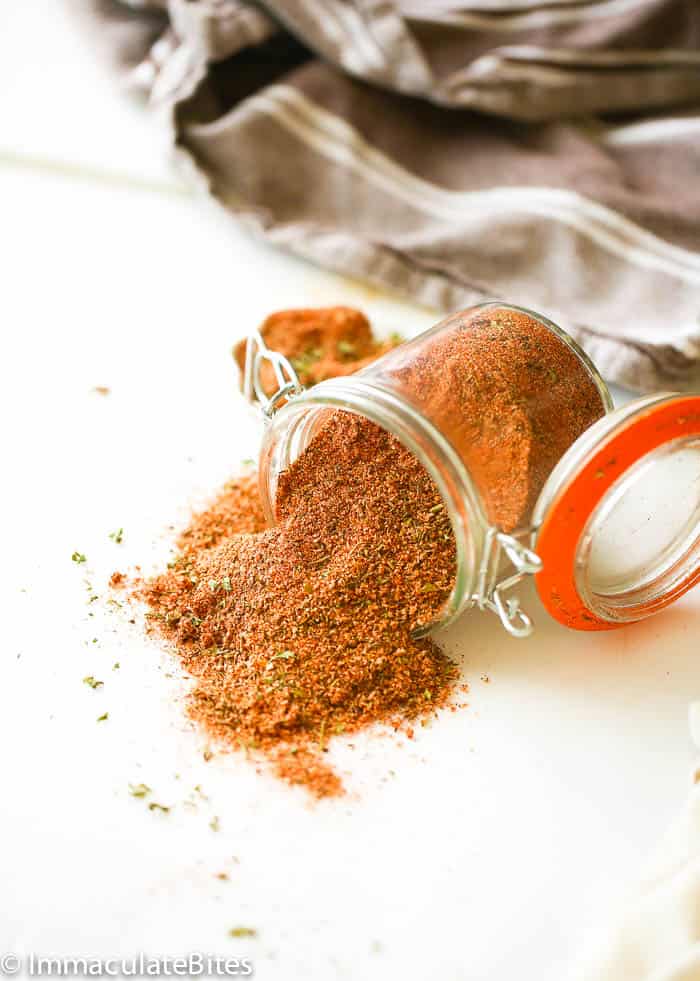 Enjoy!!!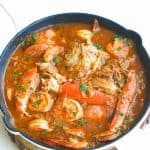 Gumbo
Chicken Shrimp & Sausage Gumbo — a rich, flavorful gumbo with authentic flavors; loaded with chicken, sausage, shrimp and crab legs. Simply Delicious.
Course: Main
Cuisine: American
Servings:
Calories: 619 kcal
Ingredients
¼ cup canola oil
8 oz . Smoked sausage
2 pounds chicken skinless chicken thigh
½ cup flour
¼ cup unsalted butter
1 medium green bell pepper diced
1 medium onion diced
1 cup chopped celery (about 3 sticks)
2 teaspoons minced garlic
1 14 oz . can tomatoes (chopped)
½ pound crab legs
1 tablespoon Creole seasoning.
½ tablespoon smoked paprika
1 tablespoon chicken bouillon powder or 1 cube
1- tablespoon thyme fresh or dried
2 bay leaves
6 cups chicken stock (sub with water)
1 pound shrimp (peeled and deveined)
¼ cup chopped parsley
2 green onions chopped
1- tablespoon gumbo file
10 cups cooked rice
Instructions
Lightly season the chicken with salt and pepper. Heat the oil over medium heat in a heavy bottomed Dutch Cook the chicken until browned on both sides and remove. Add the sausage and cook until browned, and then remove. Set aside

In a large Dutch oven or heavy bottomed saucepan combine melted butter, oil and flour until smooth.

Cook on medium heat, stirring continuously, for about 20-30 minutes or until it turns a rich dark brown color – just like chocolate. Don't walk away from the stove during this process. It might burn.

When you have achieved your desired color. Remove from stove and let it cool.

Return the Dutch oven back on the stove. Add the onion, garlic, green pepper and celery and cook for 8- 10 minutes –stirring frequently.

Then add chicken, sausage, crab legs, creole seasoning, chicken bouillon or cubes, paprika, thyme, bay leaves and let it cook for 5 minutes. Followed by can tomatoes about 6 cups of chicken stock, bring to a boil and let it simmer for about 45 – 50 minutes .Add the shrimp, simmer for 5 more minutes.

Stir in file powder, green onions, and chopped parsley.

Adjust thickness soup and flavor with broth or water and salt.